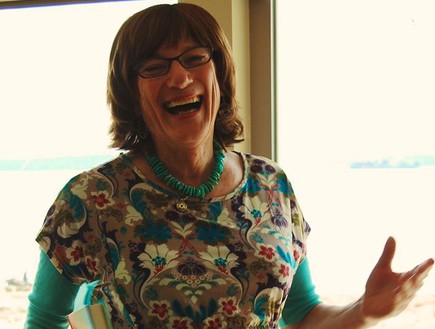 יסכה סמית' מתארחת בתמול שלשום
5 ביוני 2016 @ 19:00

-

21:00

|

20ש"ח
Yiscah Smith is the author of the memoir, "Forty Years in the Wilderness: My Journey to Authentic Living". In her own words: "The story I tell is one of a man, facing his truth, embracing the woman she was always meant to be, and returning to her faith with wholeness and authenticity. I sensed that honoring my being born transgender meant I would always be significantly challenged by my passion to live a spiritually based Jewish life in an integrated and unified way".
"My journey became as much spiritual and healing as it was one of a gender transition. Embracing my unity within, I began to feel "a part of the world" rather than "apart from the world."
Leading a program on restoring unity to a fragmented world, the Yerushalayim within each of us. Yiscah will share her story and her Torah, allowing time for audience engagement as well.
Minimum order: 20 NIS
Link to the event on Facebook.

طباعة / הדפסה / PDF