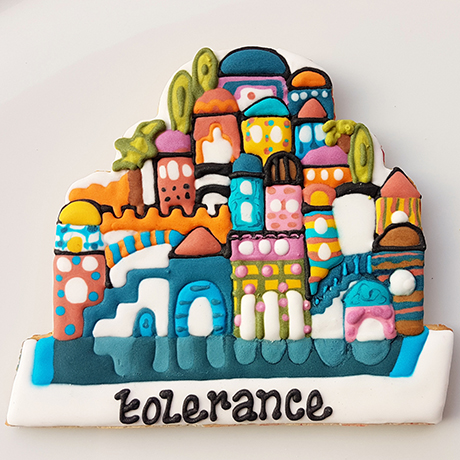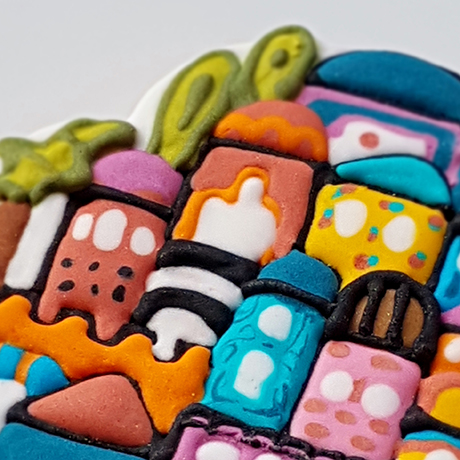 Artist's Statement
My inspiration for my cookie design derived from a sculpture that I had liked by a local Jerusalem artist, Yair Emmanuel, which depicts a vibrant Jerusalem skyline.
I was attracted by the use of colour and naivety of the piece, which too me shows Jerusalem to be a vibrant city that is inhabited by various identities and groups who must work together to bring tolerance to the city.
The cookie measures 6 inches by 5 inches, and I have hand decorated the piece using a royal icing 'wet on wet' technique, and a technique of adding a 3d effect, by allowing the icing to dry inbetween stages of application.  I used a variation of consistencies of icing and nozzles, in a total of 13 colours.
Cookie design was re-created with permission of the artist, Emmanuel.
About Amanda
The Cookie Collaboration is a small family run business established in 2012, in rural Lancashire, by  Amanda Hamilton Smith. Each cookie is made from scratch and is hand-rolled and hand-decorated. We are proud to have iced cookies for Merecedes-Benz, Hilton worlwide, Mulberry & Sir Richard Branson to name a few! and our cookies have recently been featured in BRIDES Magazine. WEBSITE:www.thecookiecollaboration.co.uk   Facebook:cookiecollaboration/facebook.com
Paloma Efron | Patty Chua | Joss Lewis  | Veena Azmanov | Amanda Hamilton Smith | Tammy Youngerwood

طباعة / הדפסה / PDF