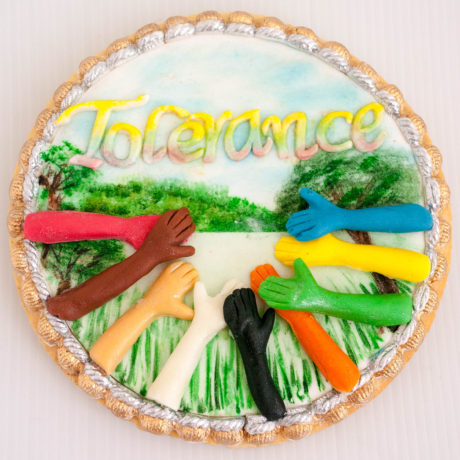 Artist's Statement
It was an honor to be asked to create a cookie for the Tolerance Collaboration. Having lived in Israel for over 10 years this topic is close to my heart. However getting a huge concept on a small cookie was the most challenging part.
I wanted to create something that suited my style; I hope did justice to the topic. The colorful hands, each reaching out to be seen as individuals and accepted over a hand painted background.
A big thank you to Tammy Youngerwood for inviting me to participate in this collaboration.
About Veena
My name is Veena. I started decorating cakes professionally since 2011. I own a small home based Cake Business in my name brand – Veena Azmanov in Ra'anana, Israel. I specialize in mostly Wedding cakes and sugar flowers.
You can find more details of my work here.
My Facebook Page – https://www.facebook.com/veenaazmanov/
Or my blog – www.veenaazmanov.com
Paloma Efron | Patty Chua | Joss Lewis  | Veena Azmanov | Amanda Hamilton Smith | Tammy Youngerwood

طباعة / הדפסה / PDF